CODING IS BY DREAMINGWOLF1! DO NOT STEAL!
Leopardshade is owned by DreamingWolf1! Keep your paws off!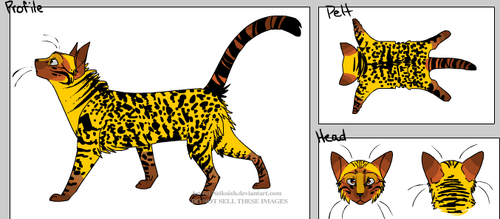 Description
Leopardshade is a gorgeous golden she-cat with black spots on sides and face, stripes on tail and amber eyes.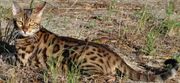 Family line/Education/Rank
Leopardshade was born to Leafshade and Windfall in
WolfClan
along with her brother Kestrelstorm. She was mentored by Darkflower, and she moved on to recieve her warrior name after the battle with
RippleClan
along with her best friend, Shimmerpaw (later
Shimmerstar
). She mentored her first apprentice, Shadepaw (later Shadeheart) but she was killed by the raid of Fulcrum and his rogue cats along with Snakeclaw and Firestone. She fell in love with Harespring, Shimmercloud's brother, and they became mates. She later gave birth to Olivekit (Olivenose) Shrewkit (Shrewtail) and Sneezekit (Sneezetail). Shimmercloud later moved on to become deputy of WolfClan, and later leader after Rainstar's death. She made Leopardshade her deputy.