Snowshine is owned by DreamingWolf1 Do not copy the name or edit no matter what!
CODING IS BY DREAMINGWOLF1! DO NOT STEAL!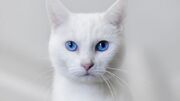 Description
Snowshine is a pretty she-cat with white fur and blue eyes
Family line/ education/ rank
Snowshine was born to Ashblaze and Fernfrost in WolfClan along with her sister Shimmerkit (Shimmerstar) and brothers Weaslekit (Weaslewhisker) and Harekit (Harespring). She always wanted to become a Medicine Cat, and that was what she did. She was given the current Medicine Cat Weedwhisker as a Medicine Cat, but she was also trained by his mentor Cloudstem. After training for a while she was given her Medicine Cat name at the MoonRock, Snowshine. Cloudstem retired to the elder's den shortly before Snowshine was given her own apprentice, Skypaw. Weedwhisker also retired, and Cloudstem later died of old age. Skypaw was then given her Medicine Cat name, Skystorm.